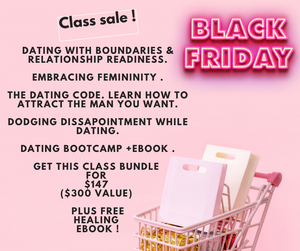 Black Friday Class bundle Sale
Description of the classes available.
after purchase you will receive an email with all the class materials and your free gift .
✨Dating with Boundaries & Relationship Readiness.
This class discuss :
What are healthy boundaries

Setting and communicating boundaries

Signs of unhealthy boundaries

Why relationship readiness matters
✨Embracing Femininity .
This transformative class is designed to empower and inspire individuals of all backgrounds to connect with their inner divine femininity in a way that is deeply rooted in biblical wisdom.
**Course Highlights:**
-Discovering Biblical Femininity:Delve into the Bible's rich narratives, parables, and passages that shed light on the multifaceted aspects of feminine energy, from the strength of Esther to the wisdom of Proverbs 31.
-Empowering Spiritual Connection:*Explore how the scriptures offer guidance on cultivating a profound spiritual connection, nurturing inner strength, and embracing the sacredness of your feminine self.
-Practical Application: Learn how to apply these timeless teachings to your daily life, relationships, and personal growth, fostering a harmonious balance between the spiritual and earthly realms.
-Meditation and Mindfulness:Incorporate mindfulness and meditation practices inspired by biblical teachings to enhance self-awareness, peace, and serenity.
✨The Dating Code. Learn how to attract the man you want.
Learn the simple yet effective steps to attracting and choosing the man you want .
✨Dodging Dissapointment while
Dating.
Master your emotions and expectations while dating. Master class
Understanding Your Emotions:
Learn to identify and manage your emotions effectively.
Setting Realistic Expectations: Discover how to set healthy expectations for yourself and your partner.
Effective Communication: Master the art of open and honest communication in dating.
Building Resilience: Develop resilience to navigate the ups and downs of the dating process.
Self-Care Practices: Explore self-care techniques to
✨Dating bootcamp +ebook .
Are you tired of feeling stuck in your dating life? Are you frustrated with not being able to find the right partner or build successful relationships? If you answered yes to either of these questions, then our dating course may be just what you need!
Our comprehensive dating course is designed to help you transform your dating life and find happiness in your relationships. With our expert guidance, you will learn the skills and strategies you need to succeed in the dating world and build the kind of relationship you've always dreamed of.
Here are just a few things you can expect to gain from our course:
- A deeper understanding of yourself and what you're looking for in a partner
- The ability to communicate effectively and build stronger connections with others
- Strategies for dealing with common dating challenges, such as rejection and disappointment
- Tools for building healthy and fulfilling relationships that last
Our course is suitable for anyone who is looking to improve their dating life, whether you're single, dating, or in a long-term relationship.
all sales final