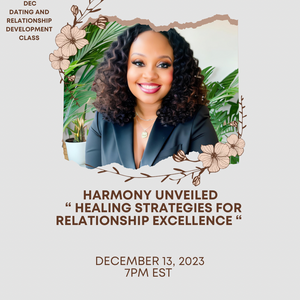 Sacred She Dating and Relationships class Development Classes
🌟 **Introducing Our Monthly Class Series** 🌟
next class 12/13/2023
7:00PM EST
via zoom 
link will be provided via email 
Explore 'Harmony Unveiled,' a transformative class offering practical strategies for mental, emotional, and spiritual healing from past relational disappointments. Join us for an empowering one-hour session where you'll gain insights, engage in interactive exercises, and discover personalized approaches to cultivate relationship excellence. Unlock the keys to holistic well-being and embark on a journey towards lasting healing and harmony.
**Why join our Monthly Class Series?**
- 🧠 Expand Your Knowledge: Dive into a diverse range of topics.
- 🌱 Personal Growth: Invest in your personal and professional development.
- 🌈 Engaging Discussions: Connect with like-minded individuals.
- 📅 Convenient Schedule: Held monthly for your convenience.
Don't miss this opportunity to grow, learn, and explore a world of knowledge with us every month. Stay tuned for updates on future topics and mark your calendar for a year filled with inspiration and growth.